POWER DISTRIBUTION & CONTROL
A Trusted Leader in Automation,
Power Distribution, and Industrial Control
POWER DISTRIBUTION & CONTROL (PDC)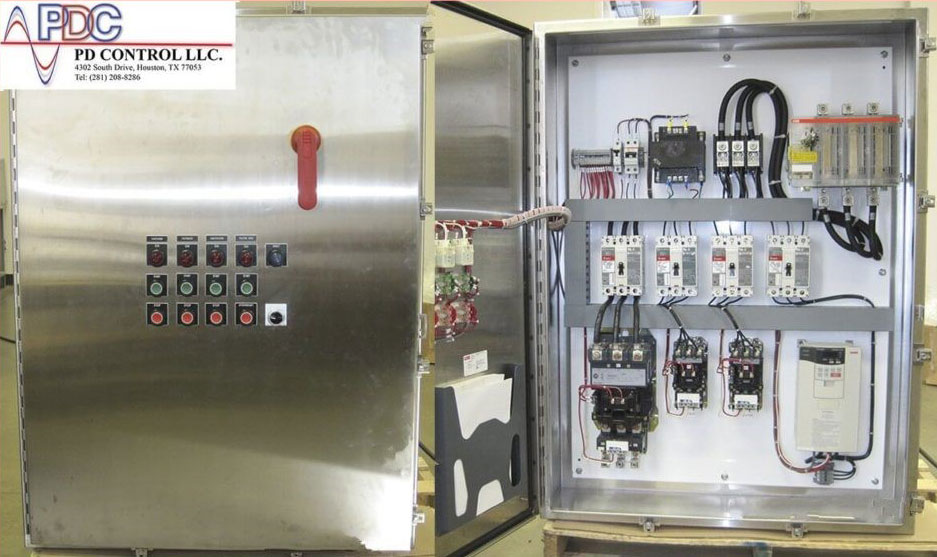 PDC is a custom industrial controls automation company. We manufacture non-hazardous & hazardous control equipment for industrial and commercial electrical needs. Our combined 90 years of experience enables us to create industrial and commercial controls solutions that provide customers with excellent, high-quality, certified controls and assemblies that maximize the value and provide for future growth.
The PDC Team works with our customers to make sure that plans and components provide the best solutions for efficiency, cost, maintenance, and integration into their systems. All customer plans are carefully analyzed to make sure that the equipment built is the most effective solution. In many cases we help the customer discover that customer planned layouts or components will not actually accomplish the goals and help them redesign for excellence. We also manufacture components to replace things that aren't manufactured any more.
PDC builds retrofits for obsolete equipment, circuit breakers, starters, panel boards that can be integrated into existing installations without major replacement or redesign of an existing installation. We can build components that fit into existing enclosures and work the same way the original equipment worked, but with upgraded standards.
We meet or exceed all appropriate industry standards. National Electric Code, NFPA70, IEEE, ANSI and NEMA Standards. PDC is also a UL 508A certified industrial control panel builder and UL 698A certified industrial control panel builder for hazardous (classified) panels. We can also cUL label your Canadian projects.

PDC works with our customers to assess their needs for a Switchrack, create a design and make approval drawings, and manufacture the Switchrack to the tolerances and requirements of the customer. MORE>>
PDC has a large inventory of new and hard to find obsolete Motor Control Center (MCC) Buckets. We can retrofit, modify, and build custom MCC Buckets to meet the needs of the customer. We can build custom Motor Control Center lineups for all applications from all the major brands (Cutler Hammer, Square D, GE, etc.). MORE>>
PDC is a UL 698A certified Original Equipment Manufacturer (OEM) for industrial control panels for hazardous locations. We can build junction boxes, lighting contactors, and combination starters as well as much more in Nema 7/9 Enclosures. MORE>>
PDC is a UL 508A certified OEM for industrial control panels. We specialize in designing and assembling custom control panels that will meet the needs of our customers in the field. MORE>>
PDC is a recognized OEM for all the major brands (Cutler Hammer, Square D, GE, Allen Bradley). We can manufacture Nema 3R, Nema 4X, and Nema 7/9 Combination Starters with a standard lead time that is a fraction of the lead time from the Factory. MORE>>
We create approval drawings for our projects. PDC provides unique support for our customers by providing customer with the AutoCAD drawings for their project to enable a customer to plan and implement future modifications of the equipment and installation. MORE>>
Manufacturing
Petrochemical
Mining
Industrial Services
Utilities
Waste Water
Offshore Drilling
Onshore Drilling
Food and beverage